Changing Climate, Changing Health: Strategies for Addressing Public Health in the Age of Climate Change
September 20 @ 7:15 am

-

11:45 am
The public health field is rapidly shifting to incorporate the new realities of climate impacts. From extreme heat waves to the growing prevalence of diseases, issues with water quality, trauma from storms and allergy and asthma triggers, there are many challenges to address. While we are all vulnerable to this changes, low income communities and communities of color face disproportionate risks.
Keynote Speaker Gina McCarthy, former EPA Administrator and Director of the Harvard Center for Climate, Health, and the Global Environment (Harvard C-CHANGE) will explore some of the key public health issues impacted by climate change.  Following her presentation, a panel discussion will dive into both what is happening on the ground to address heat, asthma, mental health and how the built environment is supporting resilient wellness.
Join us for this EBC/UMass Boston Climate Adaptation Forum to learn about how climate change is impacting public health.
Forum Co-Chairs
Gabriela Boscio Santos, Sustainability Engagement Manager
Boston University
Deanna Moran, Director, Environmental Planning
Conservation Law Foundation
Alex Papali, Green Justice Organizer
Energy and Zero Waste Campaigns
Clean Water Action
Keynote Speaker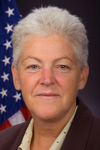 Gina McCarthy
Professor, Practice of Public Health
Harvard T.H. Chan School of Public Health
Director of the Harvard Center for
Climate, Health, and the Global Environment
Additional Speakers
Thomas Chase, Project Manager
New Ecology, Inc.
Dr. Adrienne L. Hollis, Lead Climate Justice Analyst
Union of Concerned Scientists
Dr. Jean Rhodes, Frank L. Boyden Professor of Psychology
University of Massachusetts Boston
Nancy Smith, Program Manager for Community Engagement
Office of Public Health Preparedness at Boston Public Health Commission
Registration Information
Registration and Continental Breakfast: 7:15 a.m. – 8:00 a.m.
Forum: 8:00 a.m. – 11:45 a.m.
EBC Member: $35
EBC Membership is corporate – all staff from our member companies can register as an EBC Member.
Not sure if you're a member? Visit our online Member Directory.
Non-members: $45
Government/Nonprofit: $15
This rate is available for those employed by Government, Municipal, or Nonprofit organizations. Not available to those in a volunteer position (e.g. Board Member of a Nonprofit).
REGISTER NOW
University of Massachusetts – If you are affiliated with the University of Massachusetts, please get in touch with Rebecca Herst, Director of the Sustainable Solutions Lab at UMass Boston, for registration information. All others affiliated with universities or colleges – please use the above Nonprofit rate for registration.
Fine Print: Cancellations must be received by 5:00 p.m. on Friday, September 13 for a refund. No-shows will be charged. Online registration will close on Thursday, September 19, at 2:00 p.m. Walk-in registration will be accepted at the door.